Brew at the Zoo GOES VIRTUAL
Sat, Sep 26
12pm - 3pm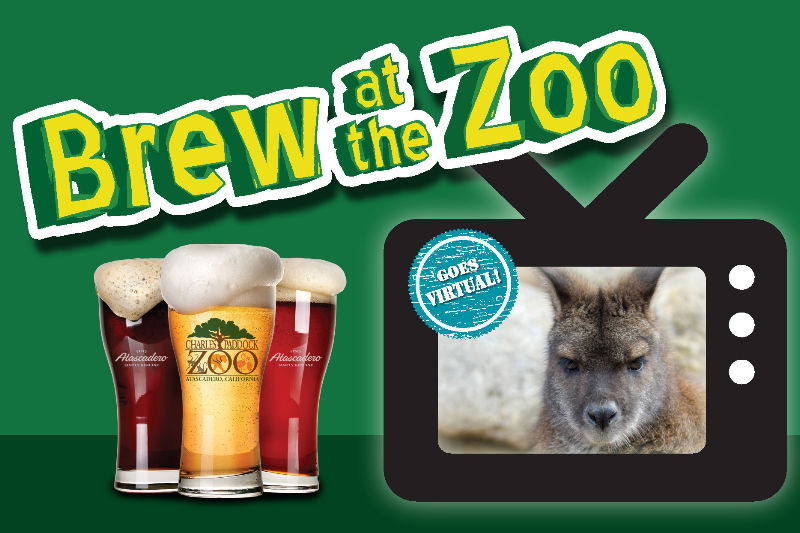 6th Annual BREW AT THE ZOO at the Charles Paddock Zoo GOES VIRTUAL!
Join us for a fun-filled Virtual Beer Festival for Brew at the Zoo on September 26th from 12-3 pm! Participants will receive a 14-pack of craft beer (13 craft beers & one Cider!) delivered to their front door from a variety of artisan brewers from around San Luis Obispo County.
Here is how it works! Once your ticket has been purchased, you will receive your 14-Pack of 12 oz. & 16 oz. craft beers no later than Thursday, September 24th. Then you will receive a link to the festival on Friday and tune-in on Saturday, September 26th at noon and experience a fantastic event LIVE from the Charles Paddock Zoo. The Virtual Brew at the Zoo Festival will include behind the scene animal tours with our experienced Zookeepers, enjoy learning about each of the 14 artisan beverages in your pack from each of the Brew Masters along with grooving to the tunes of Bear Market Riot and Ricky Montijo. Tickets can be purchased at: bit.ly/BrewAtTheZooAtascadero
Tickets are $65 (+$6.54 service charge) per ticket, which is $5.11 per craft beer and includes shipping! VIP tickets are $80 (+$7.59 service charge) per ticket, includes shipping and a commemorative Brew at the Zoo T-shirt. All proceeds from this event will benefit the ongoing conservation and educational efforts of the Charles Paddock Zoo! Tickets are on sale NOW & while supplies last! For more information call (805) 470-3490!
ONLY CALIFORNIA RESIDENTS MAY PURCHASE TICKETS AND ALL TICKET BUYERS MUST BE 21+